Pontin's Holiday Camp Badges
This page shows my Pontin's enamelled badges.
They are mainly the Flag design but I've got a few others.
---
The Enamelled Flag badges were made by 3 different manufacturers
WJ Dingley
Toye, Kenning & Spencer (TKS)
ADB (AD Butler)
I have one badge (New Pakefield) with no backstamp. However, it's in the ADB style so perhaps originates from that manufacturer.
2 of the manufacturers (TKS and ADB) each produced 2 distinctive finishes to their badges:
TKS produced badges with both an enamel and a plastic finish - the plastic finish is dark blue and produces a very distinctive, high quality, smooth surface.
ADB produced badges with both an enamel and a painted finish - the painted ones are in relief with the lettering clearly standing proud of the blue painted backround.
At first glance the enamelled badges from the 3 manufacturers look very similar but with a little practise they can been distinguished without too much difficulty.
This, then, creates 5 different manufacturer/styles to collect.
I'm not sure how many Pontin's camps had these flag style badges, I've got at least one from 24 different camps although there were more camps than that.
Despite its name, the link below provides a brief history of Pontin's Holiday Camps and details past and present camps.
www.butlinsmemories.com/2/id182.htm
This is a matrix of badges I have:
Camp

Dingley
(Enamel)
TKS
(Enamel)
TKS
(Plastic)
ADB
(Enamel)
ADB
(Painted)
No Maker

Barton Hall, Torquay**
Bay View, Brixham
☺
♠
☺
Blackpool
♠
☺
☺
☺
Bracklesham Bay, Sussex
☺
♠
☺
☺
Brean Sands, Weston
☺
♠
☺
☺
Broadreeds, Selsey
☺
☺
Buckleigh, Devon**
Camber Sands, Rye
☺
☺
☺
Dolphin, Brixham
☺
Hemsby, Norfolk
☺
☺
☺
Homelea, Brixham
☺
Little Canada, IoW
☺
Middleton Tower, Lancs
☺
☺
☺
New Pakefield, Lowestoft
☺
☺ (ADB?)
Osmington Bay, Dorset
☺
☺
♠
☺
Paignton, Devon**
Pakefield, Lowestoft
☺
Plemont, Jersey
☺
Portlet Bay, Jersey**
Prestatyn, North Wales
☺
☺
☺
☺
☺
Riviera, Weymouth
♠
♠
St. Mary's Bay, Brixham
☺
Sand Bay, Weston
☺
☺
♠
Seacroft, Hemsby
☺
☺
Southport
☺
☺
☺
☺
Tower Beach, Prestatyn
☺
Trabolgan, Co Cork**
Wall Park, Brixham
☺
Wick Ferry, Christchurch
☺
♠
☺
☺
Click on the Smiley Faces ☺ to see a scan or photo of the badge
♠ = No graphic available yet
** No Badges seen from these Camps
---
Other Pontin's Badges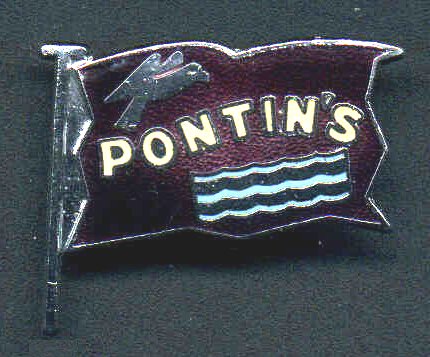 Similar in style to the smaller flags, this one is manufactured by Fattorini of Birmingham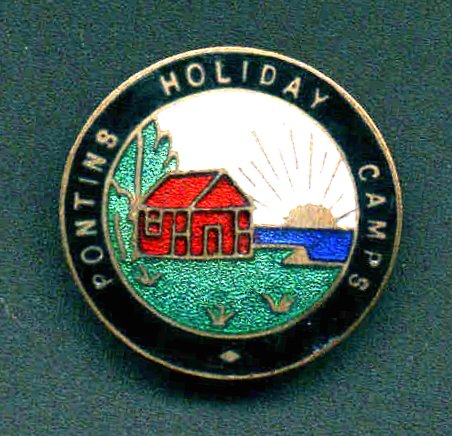 This is an early Pontin's enamel, from before the Flags series. It was made by Stratton's.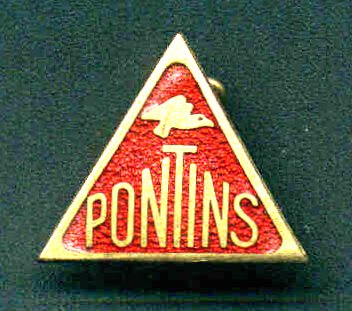 A nice triangular enamel - no manufacturer's stamp on the back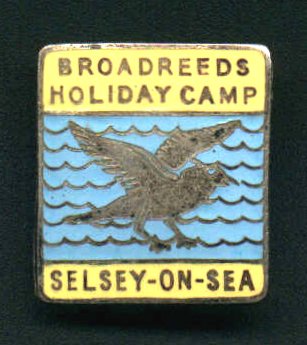 This enamel from Broadreeds Holiday Camp hails from before the Pontins era when the camp was privately owned by the Simmons family.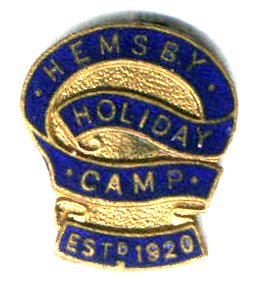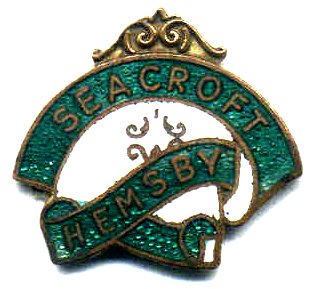 These enamel badges are from Hemsby in Norfolk before it was taken into the Pontin's fold. The badge on the left was manufactured by Marples & Beasley of Birmingham. The Seacroft badge has a blank back.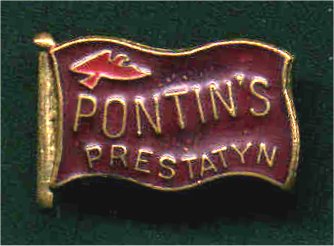 A very interesting variation on the standard Flag theme. This ADB badge has a red seagull with the blue background a definite purple. The coating is indeterminate between Plastic and Painted.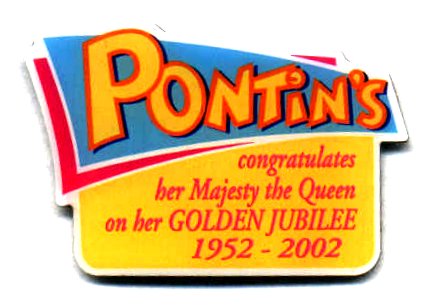 A recent Pontin's Badge is this one that celebrates Her Majesty's Golden Jubilee. It has a plastic bubble coating, probably over acrylic and a butterfly pin fastening. There is no manufacturer's markings on the back.
Although I have a few of the circular tin 'button' badges, I don't really collect them. However, the following is a nice example.