Thunderbirds Are GO!
Feast your eyes on some of the Thunderbirds badges that have been produced.
I don't collect the round tin (button) badges, just the shaped badges - metal, plastic, rubber.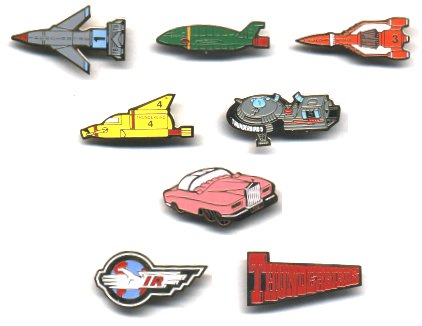 This set of 8 badges are metal, enamelled with a conventional brooch type pin on the back. They are 35-40 mm in length.
So far I have seen 4 of the badges (TB1, TB2, TB4 & the Red Thunderbirds logo) with a 1991 backstamp and the other 4 with a 1993 backstamp.
The backstamps are either:
© 1991 I.T.C ENTERTAINMENT GROUP
LICENSED BY COPYRIGHT PROMOTIONS LTD.
or
© 1993 I.T.C ENTERTAINMENT GROUP
LICENSED BY COPYRIGHT PROMOTIONS LTD.
I believe they were produced for a promotion run by the sweet manufacturer, Trebor. To obtain a badge 10 'Fruit Salad' wrappers or tokens from 'Frosties' (the sweets) were required to be sent in.
So, was the set split, 4 badges available in 1991 and the remaining 4 in 1993? Or are there 2 diferent sets?

---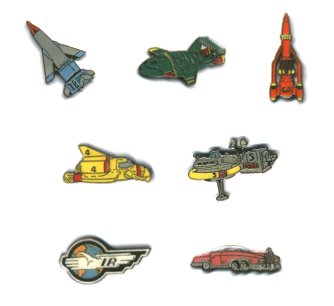 This set of 7 badges are also metal, enamelled but have a butterfly pin fastening on the back.
There are no markings on them but they were produced by a company called "Pinpoint".
Although smaller than those above (approx 30mm in length) they have a superior plastic 'bubble coating' finish over the enamel and are made from a thicker gauge metal. They also each come in a nice little plastic box affixed to a black backing card. So overall a much better produced item than the official ITC product.
---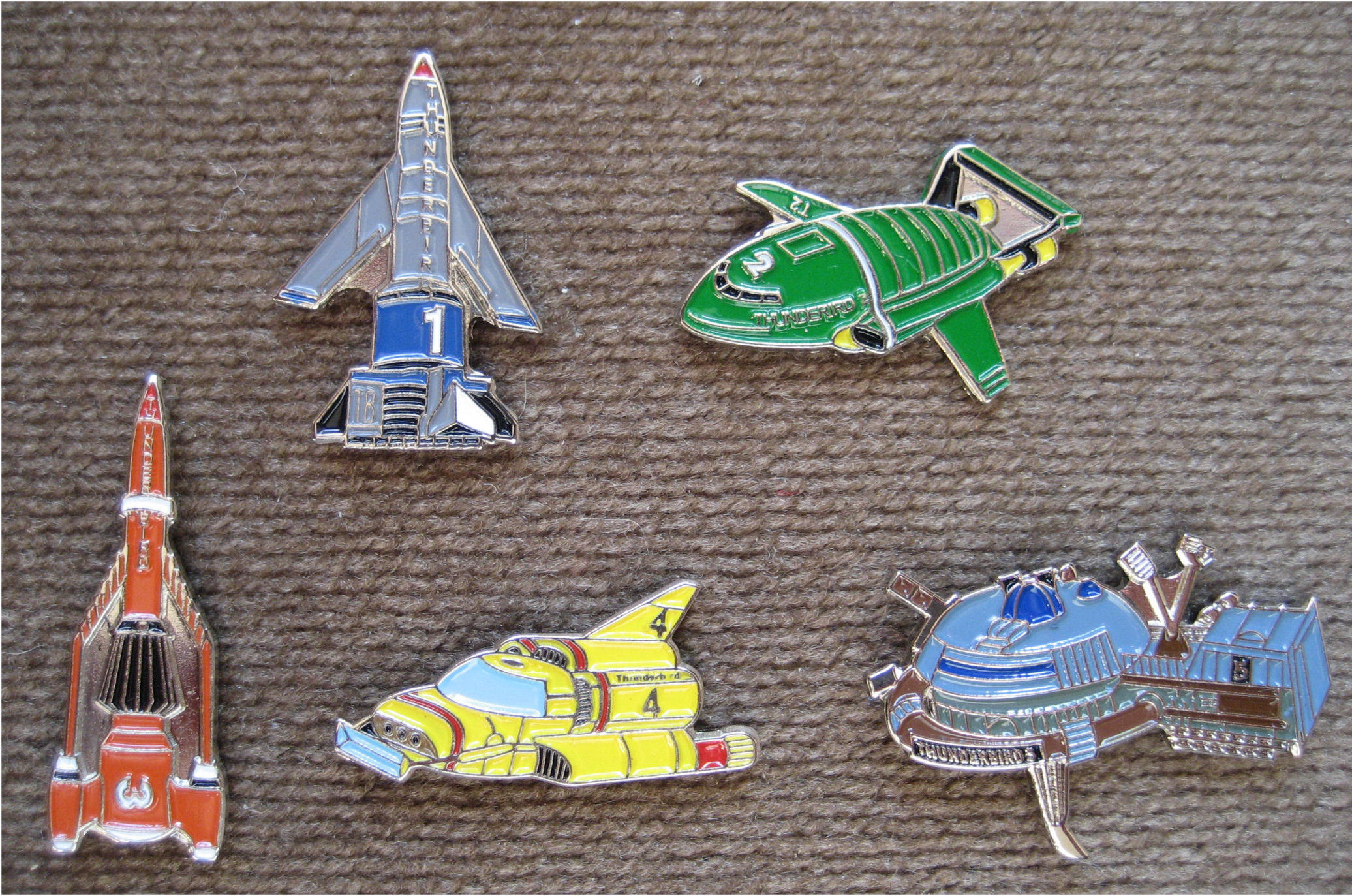 These badges are made from a chrome/silver coloured base metal and have butterfly pin fasteners on the back.
They measure 23mm (T4) to 30mm (T3) on their longest sides. They have no backstamp and I don't know their origin. I acquired them in Jan 2013.
---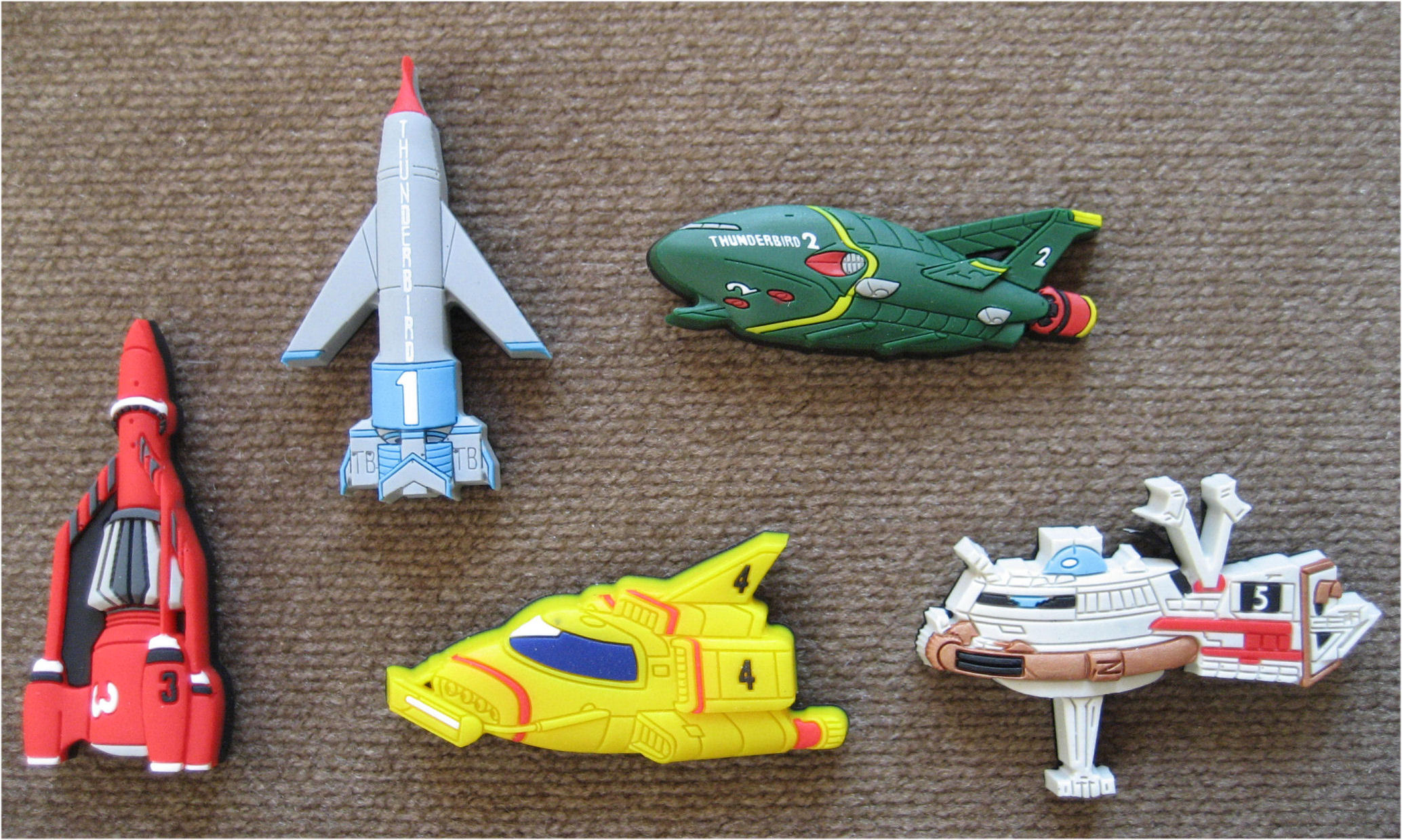 These badges are made from a rubbery material, the backing colour is black; they have butterfly pin fasteners and
all of them measure 40mm on their longest sides. On the rear of the badges is printed "©ITC." (my inverted commas) but no date. I acquired them in Jan 2013.
The badges were made by The Big Badge Company and were produced to raise funds for the Meningitis Trust Each, each badge being attached to a backing card shown below.
---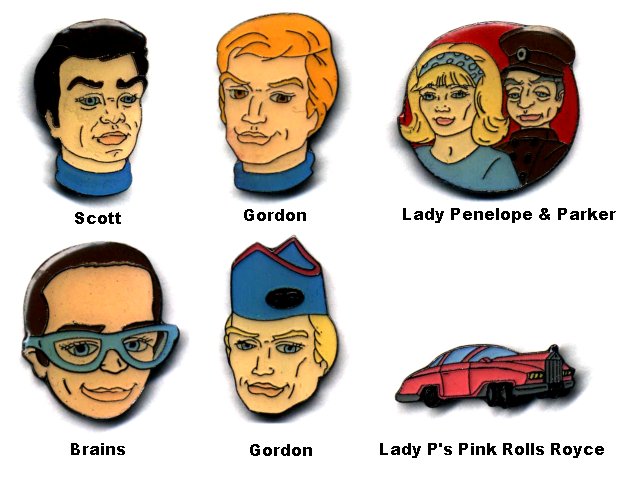 These pins I recently acquired from a French Canadian (Apr 01). They are enamelled with a clear plastic 'bubble' coating on a black metal base.
On the back is stamped:
TM© 1994 ITC
ENTERTAINMENT GROUP LTD
Brains is 26mm wide by 30mm high. The others are in proportion to this pin.
---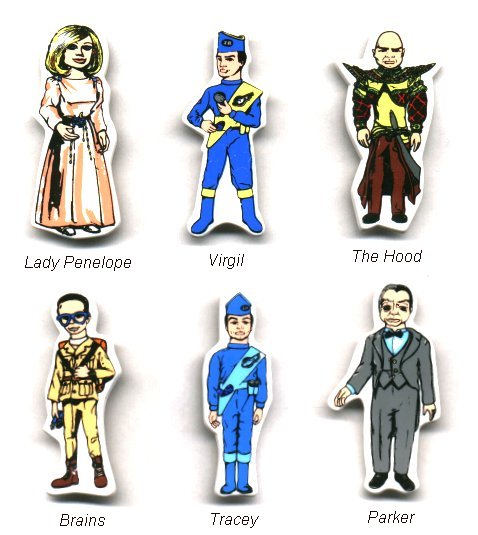 These badges are plastic and are much larger than their metal counterparts above, measuring some 70-75mm in height.
I don't know if this is a full set but have never seen any others.
The badges were an official ITC product made in 1992 from white plastic and have a conventional brooch fastening.
They have the following copyright marking on the back:
© 1992 ITC ENT. GRP. LTD.
LICENSED BY CPL.
---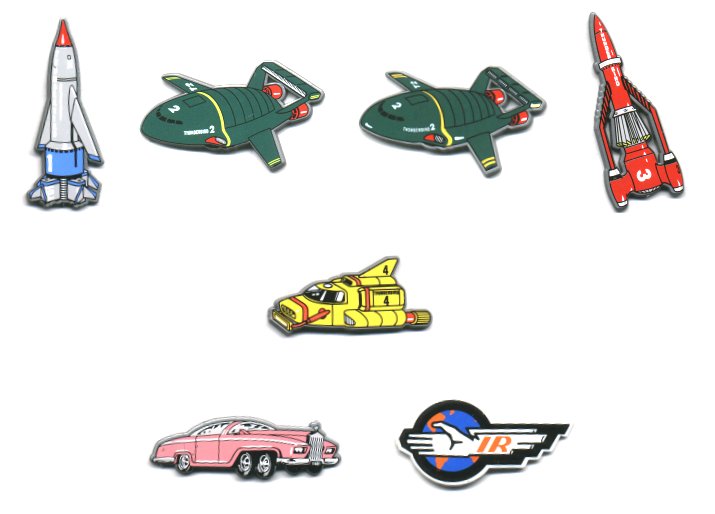 These badges form part of a larger set (most of the others are shown in the scans below).
They are also official ITC products but made from a grey plastic material, the other main difference is the fastening which is a single butterfly pin.
The exception in this set is the 'IR' badge which is made from white plastic similar to the set above. I've included it with this set though as it has the butterfly pin fastening and the copyright marking on the back is the same as the others.
The copyright markings on these badges differ slightly from the white badges above - this time they aren't licensed by CPL (Copyright Prods Ltd):
© 1992 I.T.C.
Ent. Grp. Ltd.
Inevitably if there are different production runs slight differences will be found, as with the yellow markings on the 2 different Thunderbird 2 badges in the scan above.
They also have the copyright marking on the back in different positions.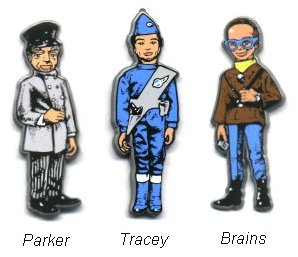 Continuing this set with the figures. I should think there are others but this is all I have despite keeping my peepers open!
They are slightly smaller than the white plastic ones measuring 65-70mm tall and have the same fastening and copyright marking on the back as those directly above.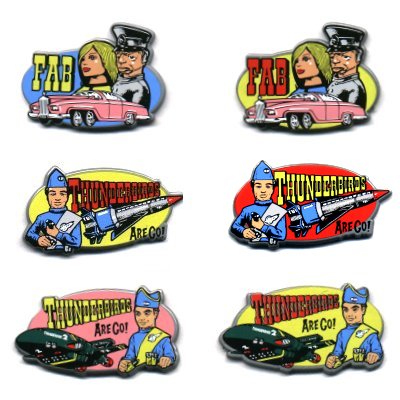 And finally in the grey plastic series are these 'FAB' and 'THUNDERBIRDS ARE GO' badges.
Anyone who has any others not shown here that they wish to part with for some of the folding stuff? Please e-mail me.