I'm unsure of the origins of the Hurts but I have an extensive family tree of Hurts going back to the late 1600's which was sent to me by John Fryer of Havant, Hants (I can supply his full address). These are mainly Hampshire based, unfortunately I can't tie in my Hurts anywhere to John's tree.

The earliest I have my Hurts so far is Steven Hurt (my 2 x Great Grandfather) who was born around 1832 in Harrow, Middlesex. He married Elizabeth Martin (born around 1839) probably in the West London area and between them they had 4 children in Ealing: Stephen (1862), Jane (1863), Elizabeth (1865) and William (b.25 Jun 1868) - my Great Grandfather.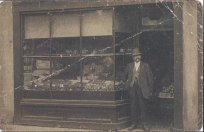 William outside his greengrocers shop in Warwick Rd, Ealing
William married Charlotte Ann Carter on Christmas Day, 1888, in St Paul's Church, Old Brentford, Middlesex. Both he and Charlotte were aged 20.
Charlotte's family were also living in Brentford, the 1881 Census records John Charles Carter and his wife Hannah (nee Quarier) living at 1 Paradise Place, Ealing with 4 children (John aged 16, Rose Ann aged 14, Charlotte Ann aged 12 & William aged 10). The family also had 2 lodgers living with them. John Charles Cater was aged 51, a bricklayers labourer who was born in Twyford, Berks. His wife, Hannah, was also 51 and was born in Newbury, Berks.
William and Charlotte had a large family, although at the moment I'm not sure exactly how many children they had. A trawl through the civil birth indexes has come up with 17 Hurts born in the Brentford registration district between 1889 and 1908. These could all be William and Charlotte's children, or perhaps there was 2 Hurt families in the area having children. I need to do more research to sort this out but meanwhile here are the 17 with some information about those I know of:
Alice Elizabeth 1889
Rose Hannah 1889 - married name Wood, had Trevor, Joyce (c1925) and John.
Jessie Lizzie 1891
Annie Elizabeth 1891
William Henry 1892 - had a son called Billy
Robert Arthur 1894 - known throughout his life as Pat, he married Florence Rosetta Keen in 1942 and had Gwen, 1925 and Cyril, 1926
Francis James 1895
Cyril Herbert 1896
Florence Ada 1897 - married Harry (surname not known) and had Sony, Gwen, Jack & Maurice
Carmena 1898 - married Nelson (surname not known)
May 1899 - had 3 children
Stephen Charles1901 - possibly died in WWI but can't find him on the Commonwealth War Grave Commission web site
Thomas Harold 1903 - my Grandfather, more about him later
Frederick Bernard 1904 - known throughout his life as Bob, married Ada Patterson and later Doris Elsie Bodman (1969). He had no children and died in 1986.
Dorothy 1905 - married Arthur Clements and had David and another son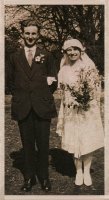 Arthur and Dorothy Clements nee Hurt
Lillian Bessie 1907 - married name Calenso, had 3 children
George Samuel 1908 - he was possibly known as Jim, he married Florence (surname not known) and died in Italy on 16 Sep 1944 during WWII.
Thomas Harold Hurt & Olive Gladys Bond
Thomas Harold was born on 23 Jan 1903 in Ealing, Middlesex. Known throughout his life as Harold, or Flip, he married Olive sometime during the first quarter of 1925 in Brentford.
They had 5 children, Audrey Joan (1925), June Betty (1926), Harold Charles - always known as John (1927), Sheila (1930) and Iris (1932). Olive, my grandmother, was not a well person and died of TB and meningitis in 1935. Harold re-married 3 years later in 1938 to Hilda Rose Stapley and had one further child, Maureen Anne (1939). The family initially lived in Shirley Gardens, Hanwell then moved to Humes Avenue. After Olive's death the family moved back to Shirley Gardens where their grandmother Bond looked after the children. When Harold re-married they moved to Montague Rd. From there the family moved to Selsey, West Sussex to escape the wartime bombing of London. From Selsey, Harold moved to Suffolk to take a pub and then came back to Selsey before finally retiring to Suffolk where he died in 1986.
Click here to download a Power Point family tree of The Hurts
Click to download Power Point family trees of my uncles and aunts:
Back my Family History main page
This page was last updated on the: 03/05/07