The origins of the West Sussex branch of Glews (or Glues) are now obscured in time. I am in contact with a number of people researching the name in West Sussex who have all come to the same dead end and are all as equally frustrated. But whatever our origins may have been Sussex has been our county for 250 years and so perhaps you might like to know a little about it... or as it was in 1887 when this entry appeared in Bartholomew's Gazetteer of the British Isles.
For us West Sussex Glew/ues it all started with a marriage that took place in the small South Downs village of Harting and was recorded in the marriage register of that parish on 2 Jun 1755. The marriage took place in the Harting parish church of St Mary and St Gabriel between Thomas Glue and his spouse Mary Trump. Where Thomas came from we do not know, but Mary was a Rogate girl. Thomas doesn't appear to have been baptized in the county of West Sussex so the vexed question of where the Glews/Glues originate remains a mystery.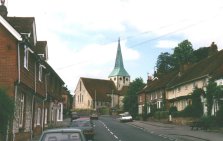 The Church of St Mary and St Gabriel, Harting
What we do know, courtesy of the IGI, is the distribution of the surname throughout England for the period that the IGI covers, that is from when parish records began until the later part of the 19th century. Those distribution figures indicate the name appeared in some 30 counties but was more predominant by far in just 5.
Nottinghamshire records 146 occurrences
Derbyshire 165
Sussex 251
Yorkshire 485
Lincolnshire 600
Click here for the full break down of the UK IGI entries for the surname Glew/ue
Interestingly, the Sussex entries, almost without exception, all date from that 1755 marriage of Thomas and Mary. So, one could possible assume (very dangerous territory for a family historian!) that Thomas came to Sussex from one of those other 4 counties listed above. What a giant leap I just took then! I do believe though that we will never know from where he actually came so speculation of his origin is harmless(!) as it cannot lead to any further leaps of faith being made.
So where does that leave us poor Glew/ues that don't know where our original roots are, well, I don't think we're that poor really: we have almost 250 years of well documented family history to trawl through, and to trace all those descendants of Thomas and Mary is proving an interesting enough diversion to keep us all going for years!
---
The 1st Generation of Glew/ues in Sussex
(My 5 x Great Grandparents)
Thomas Glue & Mary Trump
So, between 1760 and 1774 Thomas and Mary had 5 sons: John, William, Robert, George and Edward (my 4 x great grandfather). Each has been researched to some degree or another. Many of the Australian Glews are descended from John; William had 3 sons and 3 daughters (2 of the boys died soon after birth); Robert had 2 wives, producing a daughter with each both of which died as infants; George doesn't appear to have married (at least not in West Sussex); and Edward, well we know quite a lot about his descendants.
---
The 2nd Generation of Glew/ues in Sussex
(My 4 x Great Grandparents, Uncles & Aunts)
John Glue:
John married Mary Messam in Harting on 29 Jul 1783. One of their grandchildren, Andrew Glew (bap. 1828) went to Australia to seek his fortune around 1853. There he married Ellen Cattle had 12 children & 46 grandchildren. We have many Australian cousins from Andrew and Ellen and I would need quite a lot of web space to do them justice. In the meantime if you want information on our Oz cousins then please e-mail me. Note: A book produced by the Australians has Andrew as the grandson of William and Jane - this is not correct, and there are a number of other errors in it relating to Andrew.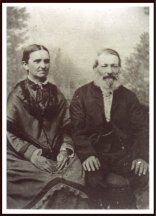 Andrew and Ellen (nee Cattle) Glew
William Glue:
William married Jane Porter in Harting on 27 Nov 1782, they had 6 children baptized in Harting over the following 14 years: Jane 1784, Sarah 1789, Elizabeth 1791, George 1793, Henry 1795 and Joseph 1796. George and Henry died soon after birth. There is more information on William and Jane's descendants in the parish registers but for the time being I'll leave them there.
Robert Glew:
Other than the information available from the link there isn't much else to report on Robert.
George Glew:
I have found no further information on George in the Harting registers other than his baptism.
Edward Glue:
Edward was my 4 x Great Grandfather. He first appears in the parish records when he was baptized in Harting on 10 Jul 1774. His next appearance was on the occasion of the baptism of his first son, William (Glew), on 31 May 1795. Curiously, William's mother wasn't named in the register. 3 years later, on 15 Apr 1797, 2 further children were baptized to Edward - Elizabeth and John (Glue). They were twins but again no mother was recorded however, a space was left for the mother's name but was never added.
Edward then appears next in the Upmarden registers this time with his wife Susanna as parents for the baptisms of a further 7 children. Now Susanna is another little mystery! There is no marriage for her and Edward in West Sussex so it has made it a bit difficult to know who she was. From subsequent census returns we know she was born in West Dean. Click on Susanna's hotlink above for some more details.
Edward and Susanna were to spend the rest of their lives in Upmarden, making appearances in the 1841 & 1851 Census Returns. Their burials were recorded in the registers just 2 years apart - Susanna's on 28 Oct 1852, Edward's 26 Feb 1854.
Stop Press: A marriage record has been found for Edward Glue to Susannah Parvin 10 Nov 1794, in Stockbridge, Hants. It indicates that Susannah was the mother to all of Edward's children; perhaps they initially resided in Stockbridge where the first 3 children were born before moving to Upmarden. During that time Edward brought the children back to Harting on his own, for their baptism at his parish church.
---
The 3rd Generation of Glew/ues in Sussex
(My 3 x Great Grandparents, Uncles & Aunts)
Edward and Susanna's further 7 children, baptized in the Upmarden parish church of St Michael and All Angels, were: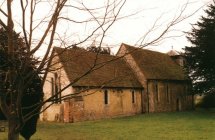 The Church of St Michael and All Angels, Upmarden
Harry Glue - 31 Mar 1799
Thomas - 26 Feb 1802
Harriett - 7 Oct 1804
Lydia - 14 Jun 1807
Sarah - 1 Oct 1809
James - buried 13 Apr 1813
John - 17 Jul 1814
It's not certain that James was one of Edward and Susanna's children as no baptism can be found for him.
William Glew
William (my 3 x Great Grandfather) was Edward's eldest child, he was baptized in Harting in 1795 but was brought up in Upmarden from a very early age, probably from about the age of 3. Later, on the 1851 Census, he said he came from Upmarden. William met Frances Earwicker, a Sidlesham girl, and married her in her home parish at St Mary's Church on 27 Dec 1823.
They had 12 children baptized in Sidlesham and recorded in the parish registers between 1824 and 1846, all (with the exception of the youngest) were baptized as GLEW but used both that and GLUE during their lives.
---
The 4th Generation of Glew/ues in Sussex
(My 2 x Great Grandparents, Uncles & Aunts)
William and Frances children were:
William - 3 May 1824
Thomas - 11 Sep 1825
Edward - 3 Dec 1826
James - 4 Jan 1829
Alfred - 13 Jun 1830
Mark - 25 Dec 1831
Charles - 22 Dec 1833
Henry - 18 Jan 1835
Frances - 20 Nov 1836
Isaac - 4 Nov 1838
Samuel - 11 Jul 1841
Aaron Glue - 3 May 1846
William was a mariner, he married Harriot Peskett from Lyminster (or Leominster as it was then known) and settled there. Family Tree
Other than their baptisms I've not found any information about Thomas, Edward, James or Alfred.
Mark married Mary Ann Green in Sidlesham, their descendants are today living in the Southampton area. Family Tree
Charles died when 3 days old.
Henry was a seaman. He married Mary Scott in Hartlepool on 20 Feb 1864 and settled there having 9 children. His descendants are today living in the Hartlepool area. Family Tree
Frances married Henry Francis in Sidlesham on 28 Jun 1856 so becoming Frances Francis. Before marriage she was recorded on the 1851 Census Return for Leominster as Fanny Glue, house servant, aged 16. Family Tree
Isaac is my 2 x Great Grandfather. He was baptized on 4 Nov 1838 whilst his parents were living, and presumably working, on the Keynor Estate in Sidlesham. Keynor Estate was a farm and Isaac's father was an agricultural labourer (Ag Lab). Little did he know that at the time he was born his future wife, Charlotte Steer, was also living there, she was aged 6 at the time. They were probably aware of each other as they grew up but it was nearly 22 years later on 22 Sep 1860 when Isaac (aged 21) and Charlotte (aged 28) were married in the same church they were both baptized. They had 4 children between them before Isaac's untimely death aged 42 - from a kick by a horse is the family lore, but I've not been able to confirm this. Their first 2 children died at very young ages, Louisa was 4 months old and Alfred 7 months. Their next child, Thomas, baptized 2 Jul 1865, survived to adulthood but I have only sketchy information about him from family memories and have not as yet found any reference to him in any official documentation. Isaac and Charlotte's 4th and last child was my Great Grandfather, Allen. Isaac lived for the majority of his life in Sidlesham but he and Charlotte had a brief spell in East Wittering. Allen's baptism is to be found in the Earnley parish register with their abode recorded as East Wittering. After Isaac's death Charlotte re-married to George Porter, a bachelor wheelwright from Sidlesham who was some 19 years younger than herself. They were married in Sidlesham on Christmas Day 1885. Charlotte was to outlive her second husband by some 19 years, she finally died in 1917 whilst living in Shopwyke, Chichester and was buried in Sidlesham on 31 Jul 1917. Charlotte should have been known in the family as Granny Glew but because she had remarried she was known as Granny Porter, in the early days of my family history research this caused some confusion as no-one could explain why she was so called!
Samuel Glew married Ann Dyer in Birdham on 2 Apr 1864. They settled initially in Sidlesham where they had 4 children before moving to Selsey (1881 Census), they moved to Birdham sometime during the next 10 years where their 5th and last child was born and then back to Selsey again (1891 Census). Samuel is probably the first Glew to have lived in Selsey. Family Tree
And finally, William and Frances' youngest child, Aaron. Aaron didn't appear to have married. At the time of the 1871 Census he was aged 25 and still living with his parents. They both died in 1876 and Aaron died the following year aged just 31. His burial is recorded in the Sidlesham parish registers with his abode at time of death as the Westhampnett Union. I believe this was the local workhouse.
---
The 5th Generation of Glew/ues in Sussex
(My Great Grandparents, Uncles & Aunts)
As stated above my Great Grandfather's parents had a shaky start to child bearing with their 1st two children dying as babies. However, their 3rd child Thomas, survived. He married Sally of which there are family memories although I've yet to find the marriage so have no information on her. Thomas and Sally had at least one child, Thomas who married Beatrice - again all from family memories. Thomas and Beatrice had 2 sons who worked for the Chichester brewery Hentey & Constable. The elder son was Stanley. At some point the younger married brother died and Stanley married his widowed sister-in-law. They then moved to Gravesend, Kent. However, a check with some of the current Glues and Glews in Gravesend has failed to find any trace of Stanley.

Allen Glew
So to my Great Grandfather. Interestingly Allen's name was spelled 'Alan Glew' on his baptism record, on marriage it was 'Allan Glew' and on burial 'Allen Glew'. He spelled his own name though as Allen and in fact he was probably the first of my Glew ancestors who 'knew his letters' and hence both christian name and surname were consistent throughout his adult life - prior to him the surname spelling changed back and forth between Glue and Glew. Although born in East Wittering by the time he was 9 his parents had moved back to Sidlesham and it was from Sidlesham that he joined the Royal Navy on 19 Mar 1889. At that time he was just 9 days past his 17th birthday, however, he mis-stated his date of birth when entering the Navy and the authorities thought he was 2 years older!
Great-uncle Jack gave me Allen's Naval Record and although it's in poor condition it's largely readable. Click here for a transcription. And for some pictures of it click for page 1, page 2-3, and page 4.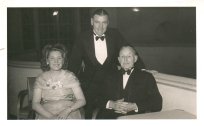 Allen Glew at a Masonic Function
He married Rosa Harding in Sidlesham on 5 Jul 1896 and had 3 sons:
Sidney Allen - bap. 28 May 1897
Dudley John (Jack) - born 2 Jan 1901
Percy Thomas - born 29 Aug 1902
All 3 were born at 159 Clive Rd, Fratton, Portsmouth where Allen and Rosa lived whilst Allen was based at the Portsmouth Naval Station. However, all 3 were baptized at St Mary's Church, Sidlesham. Allen served for a full career in the Navy being discharged before WWI and then being called up for a further 5 years during the Great War. During the intervening period he and Rosa had 2 pubs in the Midhurst area The Old House at Home - now a private residence - and the Royal Oak.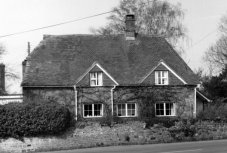 The Old House at Home, South Ambersham
Allen eventually moved his family to Selsey where he settled for the rest of his life. He died on 3 May 1957 in a nursing home in Cawley Rd, Chichester and was buried 5 days later at Church Norton, Selsey with Rosa who had died 10 years earlier.
---
The 6th Generation of Glew/ues in Sussex
(My Grandparents, Granduncles & Grandaunts)
Sidney Allen Glew was the eldest of 3 sons born to Allen and Rosa Glew. He was baptized on 28 May 1897 (I don't have a date of birth for him) in Sidlesham although his parents were living in Portsmouth where his father was serving in the Royal Navy. He married Philaemena Dora Greest at Holy Trinity Church, Fareham, Portsmouth on 18 Sep 1919. Fareham was where Dora lived whilst Sidney was living at 83 Bishops St, Portsmouth where he was a tram conductor. After their wedding they settled in Bishops St where their 1st child, Dudley, was born on 30 Jun of the following year. By the time of the birth of their 2nd child, Nina, in 1930 Sid and Dora were living in Selsey where they remained for the rest of their lives. Dora died on 28 Nov 1961 at home in Selsey and Sid died on 5 Oct 1975 in a nursing home in Littlehampton. They are buried together at Church Norton, Selsey.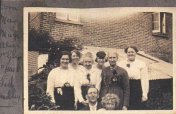 Sid and family at 'Firlecote', Selsey
Dudley John Glew was the middle of Allen and Rosa's 3 sons. He was very proud of his father as he had learned to read and write but he always knew that as the middle son he was not his parents 'favourite'. He was Jack to everyone, never being known by his given names and, having no children of his own, he was a firm favourite with his nephews and nieces.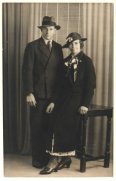 Jack and Win on their wedding day
He married Annie Winifred Beatrice Milford in Selsey on 18 Sep 1830 aged 30 and they lived there (but for a short period after his wedding) in the same house all their lives. They celebrated their 60th Wedding Anniversary in 1990.
And so finally to my Grandfather Percy Thomas Glew. Pop was born on 29 Aug 1902 at 159 Clive Rd, Fratton, Portsmouth being the youngest of 3 sons born to Allen and Rosa Glew. Allen was serving in the Royal Navy at the time. The family kept strong ties with Sidlesham where Allen and Rosa both came from. Pop grew up in Fratton until he was 9 when his father left the Navy and took a pub in Midhurst, from there the family moved to Selsey when Pop was aged about 13 and he spent the rest of his life then in Selsey. He met his wife to be, Marie Jenner but as she was almost 3 years his senior she decided he was too young for her and stopped seeing him. But they soon got back together and eventually married in the parish church of St Peter on 30 Jun 1923. Over the next 14 years they had 6 children. Pop was a self-employed painter and decorator throughout his life and the signboards of PT Glew & Sons can still be seen in Selsey as the business has carried on from father to sons to grandsons.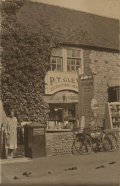 Percy Glew's shop in the High St., Selsey
Percy Thomas died in Selsey on 11 May 1989 and is buried at Church Norton cemetery.
Finally, here are a series of Family Tree diagrams to download each one detailing Percy and Marie's 6 children's families:
Winifred May Glew
Edward William Allen Glew
Percy Basil Glew
Betty Jean Marie Glew
Arthur Roy Glew
Reginald Gordon Glew
Please e-mail me if you have any comments, additions, amendments etc I'll be glad to answer or discuss any points.
Click here to download a Family Tree of the origins of the Selsey Glews
Back my Family History main page
This page was last updated on the: 10/03/15